LifeSpice Introduces 2021 Foraged Collection
Overview
Published: 04/29/2021
Photos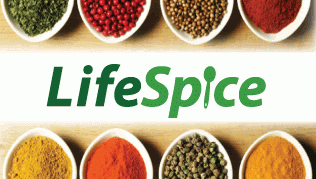 CHICAGO, ILLINOIS, APRIL 29, 2021 – This month, LifeSpice introduces our 2021 Foraged Collection of seasoning blends, inspired by local classics and global flavors to showcase the year's newest food trends. Influenced by our everyday emotions, these moody blends feature a variety of flavors, from savory, cheese-y 'Charmed - Fiery Pimento Queso' to fruity and sweet 'Optimistic - Amba', inspired by the popular Middle Eastern Sauce. These spicy, sweet and bold blends of trending flavor inspiration fit any attitude, from confident to vibrant and everywhere in between.
The Foraged Collection features flavors with International inspiration as well as American classics, such as our Smokin' Butt Rub and Awesome Anything blends that add savory, smoky, and bold flavor to every meal and are featured in our collection annually. A new addition to these favorite American flavors, 'Charmed – Fiery Pimento Queso', blends the classic cheesy flavors of Southern pimento cheese dip with a spicy twist, creating a captivating blend as charming as it sounds for a perfect addition to vegetables, dips and your favorite comfort foods.
Global flavor influence remains strong in 2021, providing plenty of appetizing inspiration for our new collection. 'Optimistic – Amba' is a fruity, sweet and spicy take on the popular Middle Eastern sauce with bright flavor that can be used in many ways, from a meat or fish marinade to a sweet dessert topping. 'Confident – Red Curry' tastes just as it sounds – a savory blend of red pepper and zesty spices true to the popular Asian sauce, a top trending cuisine in 2021. Try it with veggies or fish for a fearless flavor addition. Tangy garlic and citrus meet in the Latin inspired 'Vibrant – Mojo' blend, ready to electrify every dish while 'Intrigued-Nuoc Cham' adds a zesty sweet and spicy flavor profile to dips and meats, rounding out this collection. These bright, bold and delicious blends are the perfect way to experiment with your favorite recipes or meals by adding flavor dimension that fits your everchanging moods.
As we continue exploring these new feelings and flavors, we will be sharing some recipes developed by our chefs that highlight these blends so you can try them for yourself. Head to our website (www.lifespiceingredients.com) to request your samples today and stick around for inspiration on how to add optimism, confidence, and charm to your favorite dishes.
___
LifeSpice Ingredients is an innovator, developer and manufacturer of proprietary seasoning blends for the food industry. Founded in 2009, LifeSpice balances the culinary arts and food when developing new products. This balanced team approach allows LifeSpice to deliver functional products with rich, innovative flavor profiles from their facilities in the US, Brazil and New Zealand. LifeSpice's global vision caters to the everchanging market and evolving consumer taste trends.
Contact:
Jessica Nagel
Marketing Manager
LifeSpice Ingredients
D: 312-741-5271
jnagel@lifespice.com