Search results in category Sheeters / Pre-Sheeters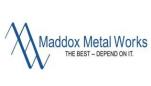 Maddox Metal Works Inc. is a precision machining, gear cutting and sheet metal fabrication company. We have a diverse customer base including food processing equipment, aerospace & defense oil field, steel mill equipment and other industries.

4116 Bronze Way Dallas, Texas, United States, 75237

2655 North Pine St
Pomona, California, United States, 91767
phone: view phone(800) 624-3916

507/Suthariya Complex, Mithakhali
Nigeria, 380054
phone: view phone918511156807

901 Leslie Street La Habra, California, United States, 90631-6841
380 Old West Penn Avenue
Robesonia, Pennsylvania, United States, 19551
phone: view phone610-693-5816
100 State St.
Moonachie, New Jersey, United States, 07074
phone: view phone201-229-9700