Search results in category Simmer / Soak Systems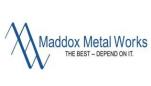 Maddox Metal Works Inc. is a precision machining, gear cutting and sheet metal fabrication company. We have a diverse customer base including food processing equipment, aerospace & defense oil field, steel mill equipment and other industries.

4116 Bronze Way Dallas, Texas, United States, 75237
A&B Process Systems Corp.
201 South Wisconsin Ave.
Stratford, Wisconsin, United States, 54484
phone: view phone715-687-4332