Search results in category Expanded - Puffed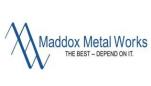 Maddox Metal Works Inc. is a precision machining, gear cutting and sheet metal fabrication company. We have a diverse customer base including food processing equipment, aerospace & defense oil field, steel mill equipment and other industries.

4116 Bronze Way Dallas, Texas, United States, 75237

498 Prairie Hill Road
South Beloit, Illinois, United States, 61080
phone: view phone815-624-6616
14450 Carlson Circle
Tampa, Florida, United States, 33626-3005
phone: view phone813-854-4434

1580 Grinnel Rd.
Kankakee, Illinois, United States, 60901
phone: view phone815-937-2633

50 West Ferris St.
East Brunswick, New Jersey, United States, 08816
phone: view phone516 922 5132

Strada Degli Alberi 7
Galliera Veneta
Italy, 35015
phone: view phone011-39-049-947-0700

PO Box 505
Emigsville, Pennsylvania, United States, 17318-0505
phone: view phone717-767-4889
Via Dell'Industria 22-24
Pieve D'Alpago, Belluno, Italy, 32010
phone: view phone390437989130