Search results in category *SNAC INTL MEMBERS & SNAXPO EXHIBITORS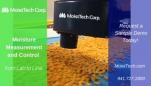 Contact MoistTech for more information regarding your moisture analysis, moisture monitor and your measurement and control system needs.

6408 Parkland Drive
Suite 104
Sarasota, Florida, United States, 34243
phone: view phone941-727-1800
2. Bright Angel Foods LLC

Cargill Salt is a trusted salt and sodium reduction solution supplier to the snack industry. Our portfolio includes core ingredient granulated salts, specialty flake salts, a full line of purified & gourmet sea salts and potassium chloride products.



5202 Moundview Drive Red Wing, Minnesota, United States, 55066-1139

7201 Logistics Drive Louisville, Kentucky, United States, 40258
7. Multisorb Technologies, Inc.

325 Harlem Road Buffalo, New York, United States, 14224
8. Navajo Agricultural Products


Phyterra Yeast Inc.